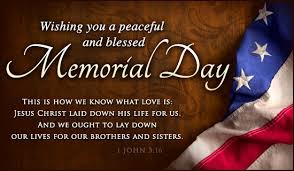 Good Morning and Happy Memorial Day Weekend! Typically we associate this weekend with the kick-off to our summer. Swimming, vacations, family picnics, and reunions are common events during a normal summer. However, this year is anything but normal. We hope you will still find joy in the new season and make the most of the situation we are in. We do have exciting news for our church family, as an interim pastor has been hired! You should have received a letter in the mail or an email with the details. Soon, we will be able to welcome Pastor Linda Schmidt. We look forward to having her join our church family for in person worship, whenever that is possible.
Today we are nearing the end of our "Easter season." We are on the 7th Sunday of Easter and next week we will observe Pentecost Sunday, or the "birthday" of the church. If you still want to give to our Pentecost Offering, gifts can be mailed to the church office. Our church gets to keep 40% of this offering and use it to make an impact in the lives of young people in our own community. For today, however, we continue on our Easter journey with a lesson from the Gospel of John, Chapter 17, verses 1-11. Read God's word for us today.
1After Jesus had spoken these words, he looked up to heaven and said, "Father, the hour has come; glorify your Son so that the Son may glorify you, 2since you have given him authority over all people, to give eternal life to all whom you have given him. 3And this is eternal life, that they may know you, the only true God, and Jesus Christ whom you have sent. 4I glorified you on earth by finishing the work that you gave me to do. 5So now, Father, glorify me in your own presence with the glory that I had in your presence before the world existed. 6I have made your name known to those whom you gave me from the world. They were yours, and you gave them to me, and they have kept your word. 7Now they know that everything you have given me is from you; 8for the words that you gave to me I have given to them, and they have received them and know in truth that I came from you; and they have believed that you sent me. 9I am asking on their behalf; I am not asking on behalf of the world, but on behalf of those whom you gave me, because they are yours. 10All mine are yours, and yours are mine; and I have been glorified in them. 11And now I am no longer in the world, but they are in the world, and I am coming to you. Holy Father, protect them in your name that you have given me, so that they may be one, as we are one."
Let's be honest: when a pastor prays in church, do you listen wholeheartedly, or do you tend to tune out a bit? Are you more likely to pay attention if someone prays for you individually? Or should prayer be a completely private practice to begin with? The Gospel in this lesson has a lot of elements to consider. Perhaps the key component is the beautiful comfort that Jesus has prayed on our behalf. Often,we love to share with someone when we are excited or worried. Jesus is showing us today in this story from John, that prayer can be like that: if we are excited, nervous or worried about something, God wants us to talk to him about it! We don't have to use fancy words and it doesn't have to be a special time. We can talk to God anytime, anywhere, and about anything! God hears and understands our prayers no matter what every single time. What's important to us is what is important for God to hear. Talking to God about everything helps to connect us to God and to know that God is with us always. Prayer also connects us to each other as the people of God. We can pray for each other as Jesus prays for his disciples and we can pray for all people to love each other.
In addition to observing this 7th Sunday of Easter, we pause on this Memorial Day weekend to remember those men and women who died while serving in our United States military. We are thankful for their service and their ultimate sacrifice protecting and preserving the freedoms that we often take for granted. In April 1863, in Columbus, Mississippi, after decorating graves of her two sons who died representing their beloved south-land, an elderly woman walked to two mounds of dirt at the corner of the cemetery to place memorial flowers there also. "What are you doing?" friends shouted, "Those are the graves of two union soldiers." Softly that compassionate mother said, "I know. I also know that somewhere in the North, a mother or a young wife mourns for them as we do for ours."
That loving deed set in motion our celebration which has become known as Memorial Day. We honor the war dead once a year, but their sacrifice is evident every single day of the year! Today, we want to honor the memory of all those who have sacrificed their lives on the altar of freedom. Those thousands of sacrificed lives were not given in vain! Because of their sacrifice, we are free today and have the right to assemble ourselves together and worship our God.
Let us end today's message with a Memorial Day prayer.
"Lord of the nations, on this day when we remember the struggles through which our country has gone in its efforts to preserve our liberties, we thank You for having made our country great and our people free. Above all do we thank You for the blessings of religious liberty to preach Your Word without hindrance and to worship You according to the dictates of Your holy and infallible Word.
We pray You hold Your gracious protecting hand over us and over all the people of our country. Guide those in authority and grant them wisdom so to rule, that peace and prosperity may be ours according to Your will.
You have told us that "a nation is blessed whose God is the Lord" and therefore we pray most of all that the Gospel, which alone can make us truly free, may be preached in all its truth and purity throughout our land. You have granted us religious liberty.
Help us to use this freedom to the fullest extent, so that through the length and breadth of our nation we may hear from the people the good news of their salvation in Christ. Bring to us and to those all over the world that peace which passes all understanding and which is to be found in the knowledge that Jesus loves us and has redeemed us from all our sin. Amen"
For those who have gone on before us fighting for our freedoms, we remember them. For the sacrifice of Jesus Christ, carried out on a cross for all of us, we are forever grateful. Thanks be to God. Enjoy the weekend church family!